Biography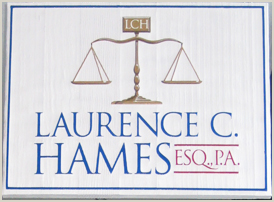 Laurence Clifford Hames, Esq., began his legal training at The University of Florida Law School in 1973 after earning his undergraduate degree at Emory University in Atlanta. An AV-rated attorney in Martindale-Hubbell and featured in "Outstanding Lawyers in America," Larry returned to the UF Law School after graduation to pursue the prestigious LL.M. degree in Taxation and focus his career in the general area of business transactions, tax and estate planning.
Admitted to The Florida Bar in 1977, Hames is also a member of the U.S. Court of Appeals, Eleventh Circuit, the U.S. District Court for the Middle District of Florida and the U.S. Tax Court.
In addition to his memberships in various civic and professional organizations, Hames' current community leadership includes serving as Chairman of the Board of Supervisors for the Reedy Creek Improvement District. Also, in early 2019, having formerly served as Board Chair for Goodwill Industries of Central Florida, Goodwill Industries of Central Florida Foundation, Inc., and for GoodSource, Larry was asked to step in as Interim President and CEO of Goodwill Industries of Central Florida while the search committee conducted a national search to fill the permanent position. In Central Florida, Goodwill encompasses approximately 2000 employees spread throughout six counties, and Larry's experiences as a lawyer and community leader served him and the organization well. In fact, in recognition of his leadership during a challenging organizational transition, Orlando Mayor Buddy Dyer issued a Proclamation for "Larry Hames Day in Orlando" in November 2019. Hames also serves on the Family Board at Advent Health/Winter Park.
Hames' prior civic leadership includes service to the Foundation for Orange County Public Schools, Inc. and president of both the Millennium Rowing Association and the Winter Park Library Board of Trustees. He has served as an Elder at the First Presbyterian Church of Orlando and on the Board of the Heart of the City Foundation. Hames also served on the Executive Council of the Tax Section of The Florida Bar Association and as chairman of the Tax Section of the Orange County Bar Association.
For ten years, Hames was Managing Partner of Salley, Fainberg, Hames & Hintze, P.A., in Orlando. Email Larry directly at Lhames@hames-law.com.