Welcome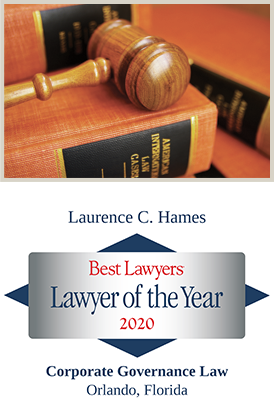 Laurence C. Hames was again selected for inclusion in the 2020 Edition of the Best Lawyers in America as "Lawyer of the Year" in Orlando in the practice area of Corporate Governance Law. In addition, he was recognized for his work in Business Organizations, including LLCs and Partnerships, Closely Held Companies and Family Businesses Law, Corporate Governance Law, Corporate Law and Trusts and Estates. Selection to Best Lawyers is based on an exhaustive and rigorous peer-review survey comprising more than 8 million confidential evaluations by the top attorneys in the country.
The law office of Laurence C. Hames, Esq., P.A. opened in Winter Park, Florida, in April 2009, and offers comprehensive personal and business tax counsel to clients who fully appreciate receiving sound legal advice and excellent client service for a fair fee. With more than 40 years of experience, Larry Hames brings a comforting blend of knowledge and skill to the very personal task of helping clients achieve a thorough understanding of the tax implications of both their business and personal decisions.
Open Monday through Friday from 9am to 5pm and at other times by appointment, the law office of Larry Hames is particularly accommodating to businesses and individuals who need responsive and thoughtful counsel. A popular element of the client service at Larry's office is the notion of offering a "fee for service" billing arrangement in lieu of "billable hour" accounting where feasible. For most business planning, tax and estate planning services, a flat fee can be quoted in the first meeting.
Call to schedule an appointment at 407-622-4500 or email Larry directly at lhames@hames-law.com.