Shareholder Agreements and Business Resolutions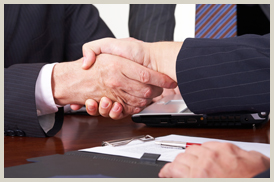 Few successful businesses involve a single owner over time. More frequently than not, a thriving or expanding business requires either a broadening of ownership or the more formal engagement by the business of those who are contributing to its financial success and growth. And when these changes occur, the documentation and memorialization of the intentions of the parties is essential.
Regardless of the entity form of your business, there are sound — and necessary — business practices that your advisor can implement to assist you with the ongoing development of contracts, agreements and companion documentation. The menu is complex and diverse: shareholder agreements, employment agreements, incentive agreements, venture agreements, agreements for purchase and sale, redemption agreements, operating agreements, confidentiality, non-compete and non-solicitation agreements, director, shareholder, member and partner resolutions and virtually all manner and form of documentation accompanying the operation of a thriving business. Frankly, these tools are required to structure, manage and anticipate predictable results.
Simply stated, the ongoing representation of your business by trusted legal counsel should be an essential element of your business structure.